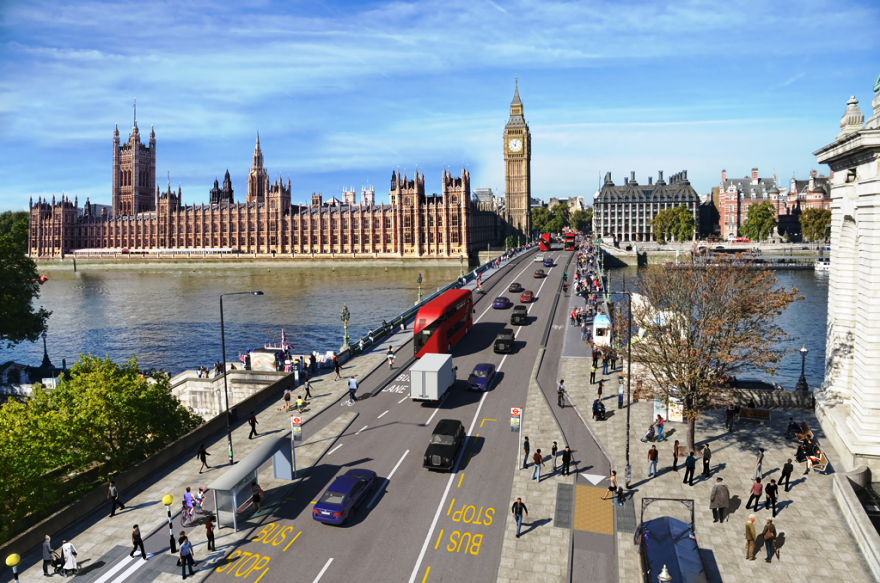 UPDATE- Stay Strong London, sorry to hear of the terrorist attack on the very location 22 March 2017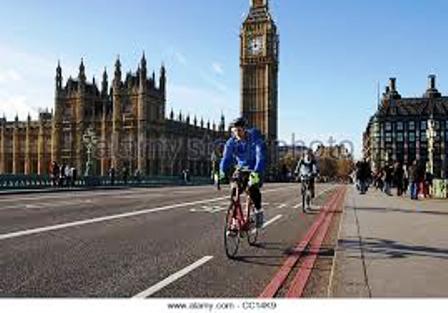 Westminster post today, day after the above future photo was released and a years worth of road-re building for cycling starts. Of all the recent developments in London this one has the most import for me, as a waiter working in the West End at Leicester Square and Shaftesbury Ave. in the late 90's this was my commute, Big Ben the clock I checked for about a 15 minute each way daily journey. Heading up from Elephant and Castle I would cross the bridge ride around Parliament Square and up Whitehall around the then unpedestrianised Trafalgar Square to work. Even within the cycling campaigning fraternity theres division on this so I want to put it in context of what the regions and Poolemouth can learn from this. Road re-allocation of space here is probably the most accomplished example of re-design for cycling so far, the full details here. Bikes and Buses have their own separate lanes, with a physical segregation for bikes. Floating bus stops will exist on both sides of the road for pedestrian access to buses. Running lanes for vehicles in the centre will be without centre line encouraging slower speeds. In the rare chance you have never been to Parliament square, this is a honeypot of tourist London, with millions of overseas visitors every year. Riding it twenty years ago meant 100% concentration, correct positioning and not without speed to get right. I am interested as this 2017 design shows what is possible on roads where cycles are given priority. Councils all over the U.K are being instructed to rebuild for Active Travel, this isnt a phase its the future as roads fill up due to inefficiency of sole occupant motor vehicles. Whilst todays cyclists in London have much more regulation by special traffic lights and segregated routes it fascinates me how London, the busiest place in the U.K leads this most difficult culture change of my lifetime. Second photo there shows what we have all over Poolemouth the advisory cycle lane, paint that can be crossed, parked in and which often appears and disappears due to width of road. In this area we have as well as the many existing parks and greenways that make excellent traffic free routes, wide avenues. Like Glenfurness Avenue that links University to Westborne the Bourne Valley Greenway and is 1 mile from centre of town. Massive wide avenues that with creativity could be turned into superb cycle routes around our centre- parcs- by- sea. Our Councils do what they can, given that they have to compete for money coming from central Government, schemes are seperate pieces of funding and there are lots in development that the Bournemouth Cycling forum has input into. There isnt at present anyone in paid roles to do cycle campaigning in the area, this is my spare time between work. So we welcome input from UK Cycling or other bodies, leave your comments please.
At present I'm working with the Councils encouraging and providing them advice on the desire lines that make perfect route choices, much of what could be made better for a fraction of road building costs is just improving existing routes. Many places still remain the same as they were in 1970s, with imagination they could be improved. Im also compiling and sending photos of useless paint examples in for suggested removal. Some of the stuff that remains is just plain daft. Examples below:-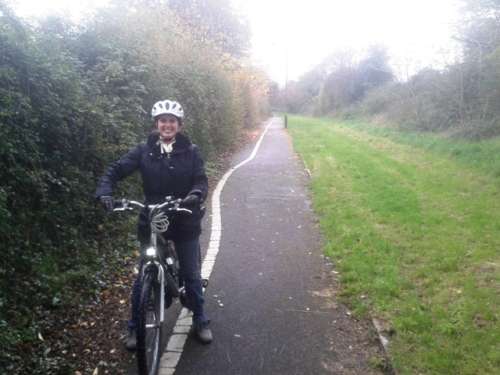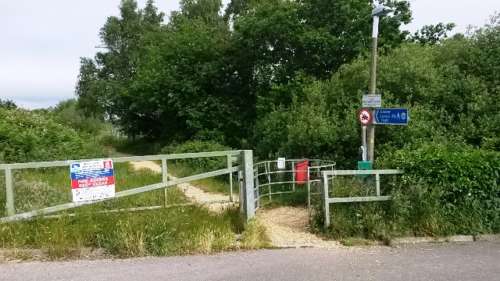 Some of the arterial roads in Poole already see large bike commuter traffic alongside, if they were made attractive bi-directional routes that would, without making massive changes signal promise on future plans. We have started to see the end results of redesign of roads on schemes like the Castle Lane work completed by Bournemouth Council, thankfully since that end of L.S.T.F post the work has continued and there are several schemes in development as I write. We are about to see the first of the Parallel crossings be put into Poole Lane this month, an innovation that allows bikes and pedestrians to cross easily.
Further on there are plans to designate space roads for mandatory cycle lanes, the first phase of welcome changes to typical wide Bournemouth roads. Watch out for press releases on these upcoming schemes. Thanks to Andy Storey for spotting this gate removal at Upton C.P., good news for access straight from Poole to Hamworthy around the Holes Bay, going to ride this today and update my Blue Route vs Queues! I garuntee you this journey choice will make you happier than sitting in the car around Upton. Enjoy youre springtime riding and happy Equinox.
Update- map here shows the opened route into Hamworthy Direct, from Holes Bay in East travelling west.
Strava link shows the journey time from Poole to Hamworthy –