This is a repository of the blog posts detailing cycle route choice information in the Bournemouth and Poole conurbation 'Poolemouth'
With the new design tube style map, these write ups describe the route features, reasons for inclusion and photos illustrating exact locations. Referencing them should provide motivation to discover these back garden routes, many of which are within an easy hours cycle ride and essentially use directional perfection to get between distinct areas of Poolemouth . Avoid the East- West jams brought about by a seaside location and choose the intelligent, healthy sustainable method of transport by bike, saving yourself thousands a year and getting fit for free.
All routes have been ridden by me for the last 8 years. This is directional perfection that avoids the East- West daily queues and takes you into our wonderful parks in this centreparks by sea Poolemouth.
This has been designed by Francesca Griffiths digital designer website here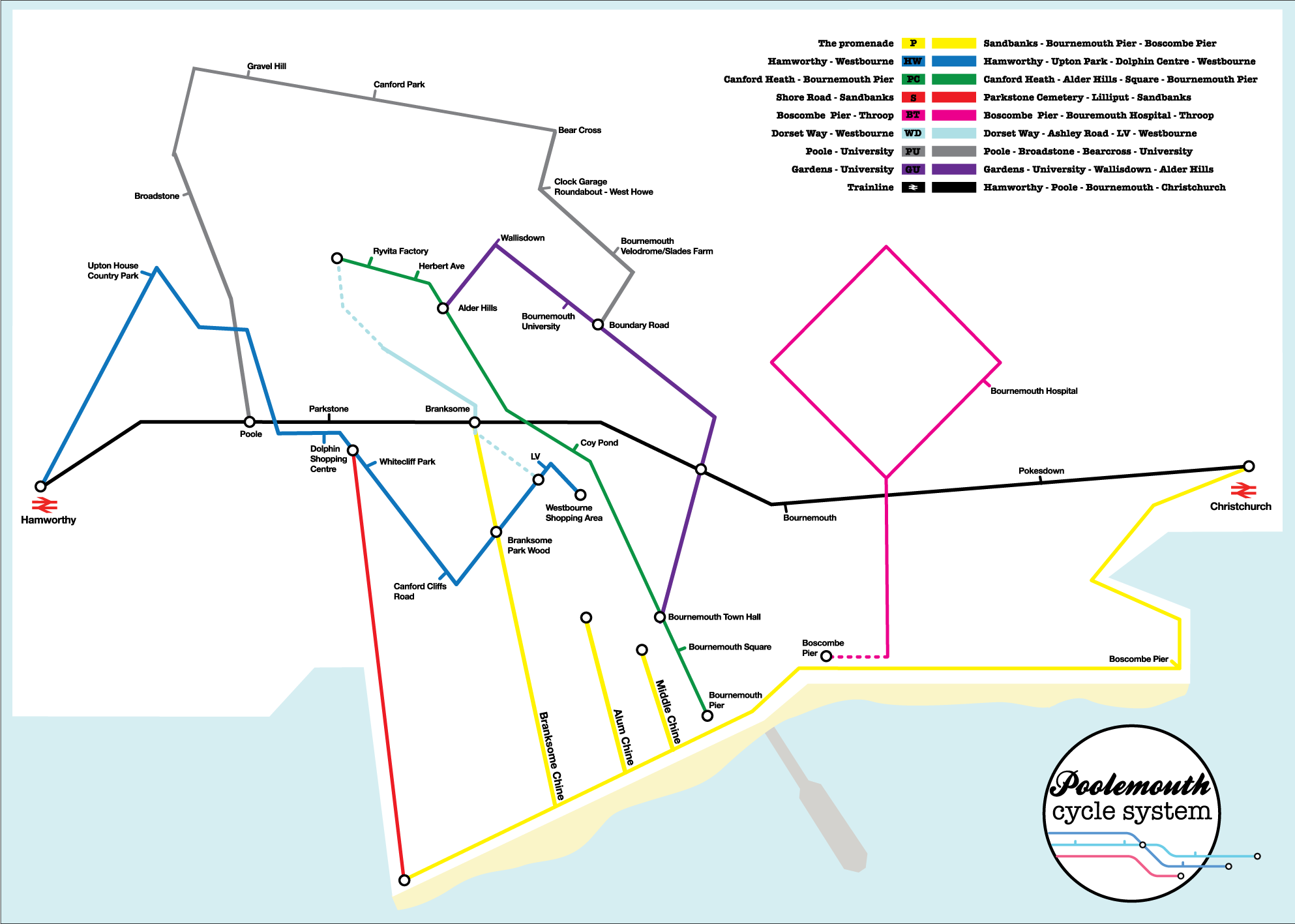 Grey Route link Poole -Broadstone 5.5.km, Broadstone- Kinson (Bear Cross) 7.4km,Kinson- University 4.9 km Total 17.8KM
Dark Blue Route link Hamworthy- Poole- Westbourne 6.8km
Black Route link Hamworthy to Christchurch by Train/ bike 29 minutes (5 minute layover)
Green Route link Canford Heath to Bournemouth town via University 14 km
Light Green Route link Broadstone to University via Canford Heath and Greenway
Pink Route link Boscombe to Hospital with Throop/ Charminster loop 4.8 km + 5.4 km loop
Yellow Route link Poole to Bournemouth Seafront with Chine info details 15.9 km total
Light Blue Route link Westbourne to Canford Heath 6.5km
Red Route and Branksome Chine circuit link
Purple Route link Bournemouth town to University Talbot Campus via Charminster and Winton
Mountain Bike route link Canford School to Bournemouth University