Teacher Experience- 2023 video
Deliver the outdoors
Empower your staff with plans and orienteering skills to run them
Plans that just… work.
Supplying lesson plans and ideas for schemes of work across all age ranges, developed over my last 12 years coaching for the best results and ease of use by teachers and staff.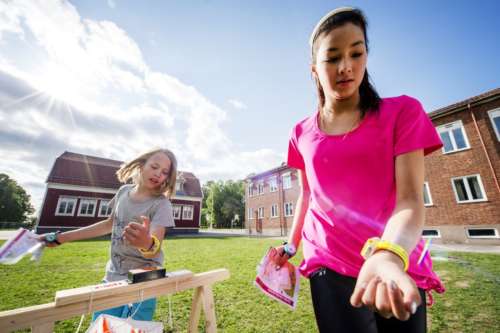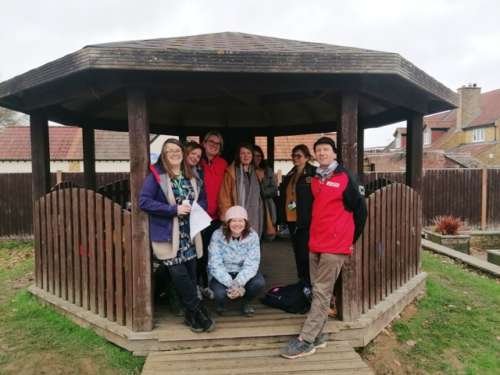 New skills
A major factor is developing staff confidence in the delivery of Orienteering as a component of Outdoor and adventurous activities provision, so you staff can inspire the kids!
Teacher training sessions are included in purchase of sets of session plans or new maps and are geared for all levels.
Case Studies:-
Case Study:- Baden Powell St Peters School. 2021-3

Background to school and my engagement.
Baden Powell St Peters Poole (B.P.S.P.) is one of 10 Schools in the expanding Coastal Learning Partnership Academy. It is a 6 form entry school meaning x 24 classes and around 720 pupils between Year 3 to 6 (8- 12 Years old) in Key Stage 2. I had first worked with Michael Peters the previous P.E lead in 2017 to Map the school and instal an Orienteering course for his use. By chance my colleague from Hamworthy Park Juniors moved over to take up the Lead P.E Teacher at B.P.S.P. and asked me to come over and work with him on their Outdoor and Adventurous Activities (O.A.A.) P.E provision. There are 10 Junior Schools in the CLP, BPSP being one, Oakdale also have me booked again for March 2024 when I give them a Year Group Competition- using Sport Ident timing, and Im looking forward to visiting Heatherlands Primary soon again, both Schools I've worked for in a Cycling Capacity in previous years.
Work Undertaken 2021- 22 Academic Year. Original Map Used with Update
First year of my engagement with the school was in Academic year Autumn Term 2021 First Map update was made in advance for Autumn 2021, J.P (Mr Paterson) specified that with such a large site we could split what was luckily a perfectly Orientated Portrait Map into two halves- Playground (North) and Field (South) creating two separate maps.
This work includes re-surveying of location, features and vegetation prior to changing map files on OCAD program, creating courses and installing them. Thereafter files for Orienteering sessions using these courses can be created, Maths, English and other themes including week 6 inter House competitions.
I Team taught in Autumn 1 and 2 x 6 different Year 5 and 6 classes each half term, a 5 week series of coaching using plans I had of an introductory nature.
During Summer term Year 3 and 4 are scheduled O.A.A P.E and so after Easter I led another x 10 different class sessions with the class teachers, another full half term for each year group. Plans here of another focus, less complex with more emphasis on paired work.
During the Summer Term updated Map and re-planned a different set of controls to use for 22-23 Academic Year. In last weeks of Term removed old markers and installed a corresponding new set.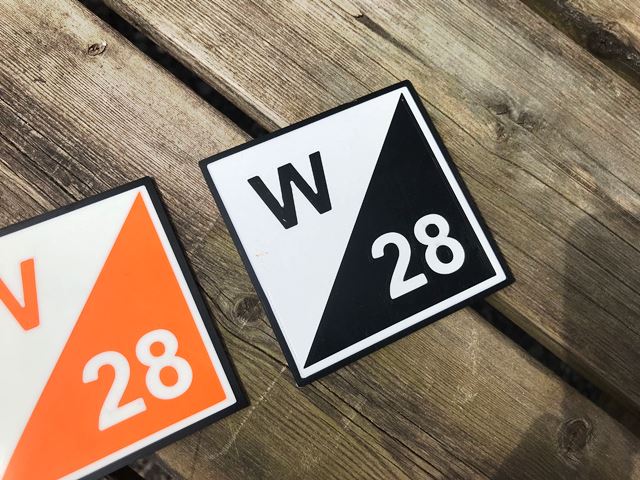 22-23 Academic Year. Map 2 Update.
Again starting with the oldest Year Groups 5 and 6, Autumn Term September through Christmas involved team teaching another x 10 different classes. The way classes are organised at BPSP means that no children of the same age move up into the same group sets, they may have some classmates from the previous year but have been re-organised in consideration of attainment, characters and ability. Some classes contain individuals that require 1 to 1 accompaniment by a Teaching Assistant – these children are also included in all P.E. activities wherever possible. Some Teachers also led the O.A.A. lessons by themselves this Term hence move from 12 to 10 x classes under instruction. Having x 2 areas planned allows us the luxury of knowing that for whatever reason ( tests being held in classrooms next to playground or similar) we can use either area. Entering the Summer Term more of the P.E focus turns to the Playing Field, which is where Year 3 and 4 enjoyed their set of x 6 sessions. Again in this year group there were children experiencing their first use of Maps and Compass, I always have to take in consideration what they have previously done if returning to me. Another x 10 different classes with more of a focus on the Teachers leading the session, which is also appraised by P.E lead doing Learning walks to witness the delivery. Other Coaching providers such as C.A.S.A my daily colleagues here so in the most part we are able to easily choose a different area of the site to teach in. On the very rare occasions when weather was so poor we would need to use the Sport Hall or Maidment Hall, very rarely occurring.
After this second year of Teaching here the updates were to include splitting sessions into progressive Year Group plans- so that for example Year 5 would not be given exactly the same lesson as Year 6. My challenge now was to create what would be two separate sets of courses, one to be used by Year 3 and 5, and one to be used by Year 4 and 6. How I managed to do this was by installing two different sets of Orienteering markers, one Orange and White, one Black and White. See pictures. Up to this point there were x 26 Markers over the whole site, now there would be x 52. North and South Maps a combination of x 26 different coloured markers. Making the corresponding maps of these courses means that children have to differentiate between their year groups colours, to complete the session challenges correctly. I would now be formulating from double the set of markers, sessions using the letters and numbers available- significantly challenging for me when considering every map file is created firstly on OCAD, then planned on another Program called Purple Pen, which allows the multiplication of maps for use. Being as previously most of the controls had been installed on fences, buildings and other features I needed to come up with another fresh set of locations. Im very satisfied to say I created another way of keeping this site all fresh, this was by using some of the trees available, many inside the security fences, some right next to but outside fences and visible from inside. See picture. By glueing markers to pieces of wood I cut from a large panel, and drilling corners to enable hanging with zip ties or gripples- I could use both recycled plastic markers from Printastique and then save these for future removal and re-use again. Alongside the map updates and course changes, I also re-wrote session plans to include more progressive difficulties for Year 6, meaning every year group experiences a progression in the content of the lessons.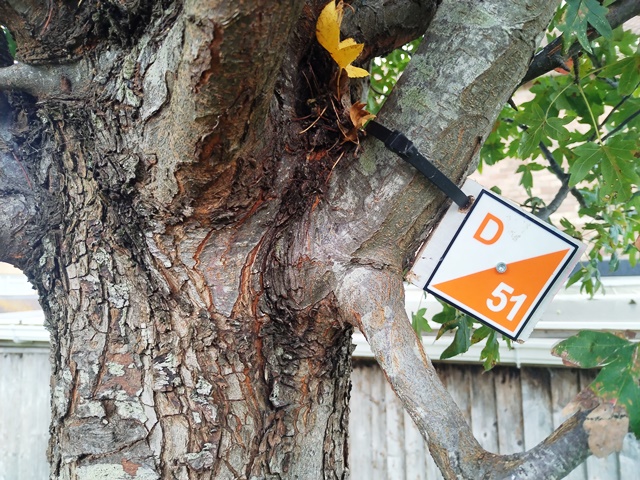 23-24 Academic Year. Maps 3 Update.
This Third Year Class Teachers are to be leading much more of the time of O.A.A., as they have now worked with me for last 2 Years- and seen the site possibilities over two years. Autumn 23 Year 5 and 6 again being programmed to take part every class, however I only work with x 2 Teachers this Term. My new plans are working well, its great to see the children still challenged to navigate accurately over the same site, albeit completely revised.
What else have I been doing 2020 – 2023.?
As well as this case study of one School, I've installed courses, created new Maps and done Map Updates for a number of locations.
2020- x 12 Schools
2021- x 11 Schools
2023- x 16 Schools
My other work includes creating Community Facilities for G.P Networks, Councils and Parks Depts. (for future case studies) See one here from Blandford TC-
2020-21 x 5 Community Facilities
2022-23 x 6 Community Facilities
I just recently opened a fabulous MapRun in Meyrick Park, Currently about to instal a course for the expanded Upton Country Park and working on Tumbledown Farm and Radipole Gardens for Weymouth Town Council. Moving and Thinking- Its a way of life.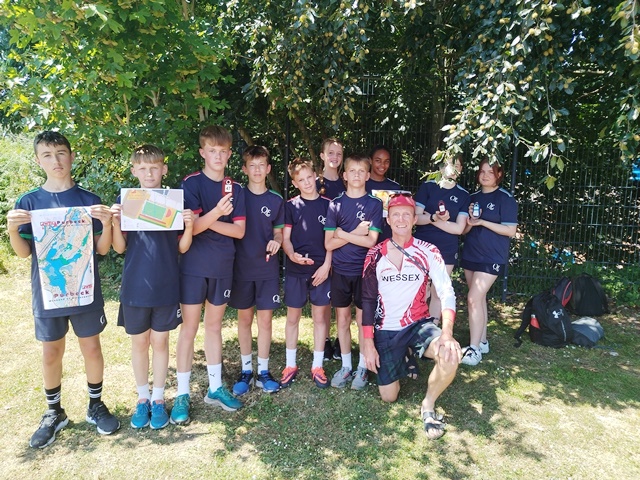 "I would like to say a massive thank you to Jason! You were an absolute star and team teaching each week was an amazing experience which I learnt so much from. Your passion for OAA made each session so enjoyable for me and the class. They naturally gravitated towards you for help, which was a big step for some of my kids and says a lot about the relationship they formed with you in the short space of time."
Daisy Deards
5 Lesson plans
£400
/ from
Specific site Maps
Year 3/ 4 or 5/6 specific plans
Custom markers available (+£60)
10 Progressive Lesson plans
£500
/ from
Specific site Maps
Years 3/ 4 and 5/6
Custom markers available (+£60)
Bespoke
Mapping
Forest, parkland and urban mapping and map updates for any space – Schools, public space, Forestry Commission
Orienteering Courses
Partnering with Active Dorset since 2011 – Set up custom orienteering courses suited to specific needs and locations
Safer urban driving Training
Courses for safer driving in town. Great for new and seasoned drivers. Full license required.