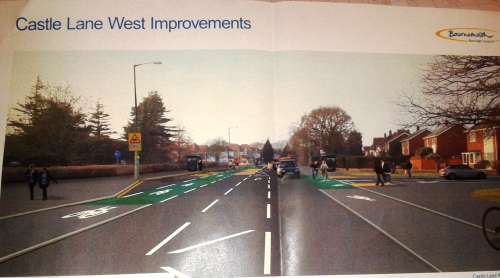 I've been working alongside Local Authorities for ten years now, wanted to put the cycle Infrastructure changes in Bournemouth at the end of the funding period into context. This 2012-15 award for Bournemouth was won by Lucy Marstrand then Cycling Officer who from hundreds of other council employees around the country applied to the Department for Transport with a package of ideas for promoting active travel. Many Councils won nothing despite applications, so in context, people employed to make our built environment better- apply to central Government to get money to innovate- some win, some lose. Love the Private Eye spin on these aspects of society they always call central government transport 'DafT', Department for Transport, if youre obsessed with music and politics like I am read on. So Bournemouth Council employs lots of staff from around the country, working on projects like the Three Towns Travel project that brought in designs for new cycle infrastructure and lots more building changes. Riding for 30 years on the roads means that seeing these changes for me cant be anything but good, there seems to be a fair few activists and press that want to do nothing but trash ideas and changes as not good enough- but if you rode before ANY of this was happening, you may agree that the last few years have been remarkable. This is where it gets good, we are talking about the built environment:- changes to the built environment take huge amounts of co-ordination between multiple interests. You'd be forgiven for thinking that building cycle lanes would be easy right? Theres a big wide road with loads of space, its just slapping a layer of tarmac down isn't it, painting some lines and job done. No its not. We have seen many small changes to the network in Poolemouth in the last three years this post focus' on Castle Lane West work, the biggest single change to the Bournemouth road system made. Not forgetting the Horseshoe common change which is also quite radical in National context. From many possible areas that also contain schools with large populations, arterial east- west routes which is common in seaside towns and high density residential areas Castle Lane was chosen as part of a bigger long term project and brought about national interest. Now fully open let's take a look at the details. Phase 1 of this project was the East Way junction with Castle Lane, a typical British 1970's barrier loaded T-Junction with 3 way traffic lights. Plenty of space here and push button crossings for pedestrians, was operating fine for decades- why bother to change that? Resistance to any of these innovations currently going on in the U.K revolves around the simplest matter- people don't like any change. Changing built environment must be one of the hardest fields to work in due to this. Previously then, there were sheep pens, those barriers that were put in to protect people from traffic, when the priority of L.A's was to keep traffic flowing. Now the scheme has taken away these barriers opened up the corners to accommodate cycle traffic on wider tarmaced, marked areas and retained the traffic lights for a 3 way junction operation for vehicles. With plenty of visibility these sorts of changes allow more space for cycling and walking around- while keeping the width needed for all motor traffic. Whole corner is much smoother, cars are slowed down on approach by tightening corners, pedestrians can see around and choose when to cross thus no longer forced to stand waiting for minutes for push button crossing to change and cyclists can carry on doing what they want to do, that is making journeys in exactly the same time every time. Moving to the East West route of Castle lane itself, the designer had many factors to consider.
Buses, where do they stop and pick up on a busy school route? the picture shows the first 'floating bus stop in our area, that allows riders to keep going with care on the segregated route. Much better than the draft picture shown above.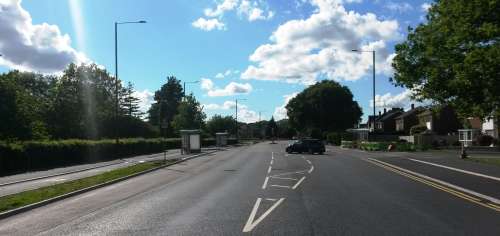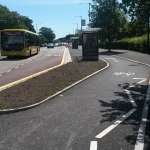 School entrance, around junction of where the gates are there are now double yellows and the aim to reduce amounts of the cars that park illegally to drop off, the school run itself deserves a whole post as this aspect of British Culture animates more road users than any other topic.
Side roads, the most radical aspect of the scheme- reprioritisation of 4 T- junctions. 1 Westwards- Uplands rd. 3 Eastwards:- Hurstdene rd., Belmont ave., Mill rd.sth., Here the cycle lane continues along while the side road gives way to it, over thousands of miles of cycle routes in the country, this is the biggest single change allowing riders to not have to continually slow down their journeys at a point where side roads always would have to anyway.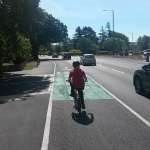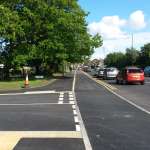 Other difficulties, Setting the levels. This work provided some of the trickiest aspects of the building process. All residences have to have access and their drives intact, this location already had drainage off drives and pavements. In effect three levels had to be considered, water not draining properly off roads can cause major issues. Picture shows how drives and pavement slope one way into existing drainage. Then a small kerb onto cycle lane, which has another slope off onto the adjacent running lane. Ensuring these levels are correct and working with the existing conditions isn't an easy task, other factors also come into play. Electricity supply- work around the Bus Stop near junction at Mill Lane Sth., was nearly complete, when due to some connectivity problems Electricity supply firm came and dug up the corner to restore connectivity. You might have noticed that around most junctions drain covers are found, this had to be considered. Gas supply runs along outside homes, this has to be considered. Water supply this had to be considered so what would seem simple actually contains lots of reasons why work takes longer than scheduled.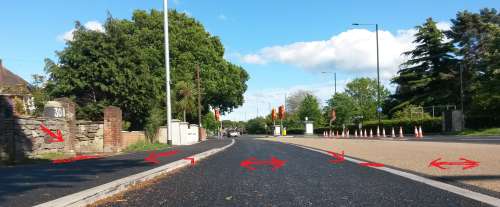 Twitter reaction nationally. There was an overwhelmingly positive response to this work on a national level. If you use Twitter you'll know that getting response from instant responders is part of the culture. Before the local press get out their slating of the scheme I'm posting these as recognition from activists around the country, people who like me are working to promote cycling on a daily basis. Some quotes from people regarding the photos I posted- " wow. If planners in Bournemouth can do this, so can anywhere in the U.K" @citycyclists (16.7k followers) "That looks pretty good" @AsEasy AsRiding (6.9k followers) "A big step forward for Dorset- some minor tweeks and these will be brilliant schemes" @jono_kenyon (1.6k followers) Overall there were in the region of 36 thousand people saw the scheme through retweets of my photos. A couple of the Ex-Pats who've moved to Holland to live had advice on the scheme, with a couple of suggestions, but no overall negativity from people who are looking forward to the biggest of these type of schemes opening, the Embankment in London.
Phase 3 is being worked out beyond Broadway westwards, and also Eastwards where there are service roads alongside the main road that could easily accommodate a built cycle lane, alongside the arterial road. With all of the same complications as above and likely more. Designing other schemes in Bournemouth will continue, as within all Local Authorities planning never stops, allocating the funding to build will rely on further wins. This post still dosent show the amount of manpower needed to implement the changes to the built environment and we should be glad to have the improved open spaces like Horsehoe common and other spaces as part of our new streetscape. We discuss these issues and more at the Bournemouth Cycling forum where Council staff attend for dialogue, the next one of these public meetings is on Monday 7th September. If you've enjoyed reading this come along.