25 January.
Councils Bournemouth and Poole will merge, bringing together the area of the conurbation that has been my work area since 2008. Always regarded as one place with two distinct centres, the reasons for linking these places with cycling routes grow ever more relevant. Debates about whether people will take up cycling in dense urban streets will continue, my view is that where there is available space cycling infrastructure building is beneficial if good quality, but not essential. Design of such infrastructure becomes problematic where multiple utilities exist, private land ownership and other influences affect dense urban environments. From cycling this area for 9 years I have identified the cross conurbation desire lines that provide users with most direct routes, what I call directional perfection. This is a selection of those routes featured on my blog for 'Poolemouth cycle system' that would benefit from intervention. Having been asked to provide Councils with ideas from users of what might be relatively quicker treatment:- this is a summary of some outstanding locations and possible interventions that could be made for fraction of the costs or road building, NOT the proposals of a paid cycling activist working for a cycling charity. Many wont be seen and the likelihood of Poolemouth being included as a name is even less likely, however Its interesting to see the Blue Rinse population or Christchurch remains evidently higher than Bournemouth of Poole which is good. I've divided them into categories, those with most vision and imagination will reach the end of this post- enjoy the read.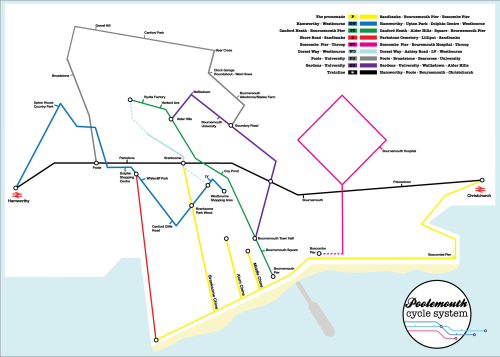 Firstly . Dealing with existing marked cycle routes created in 1970s. These routes mainly around Poole still take users on good direct lines alongside arterial roads. Now seeing increased use there are several ways to make these quality routes, such as cutting along side existing tarmac surface into grass verges to double tarmac widths for moving cycles that at present are forced to brake to pass other riders. With addition of a solid white line roadside locations listed would become user friendly and to be better promoted. Following locations:-
A3049 Canford Way North side to Dorset Way. With possible crossing marked west side of roundabout. To continue Canford Heath road South side all way to Fleets Industrial Estate.
Dorset Way A3049 all way to Adastral Road.
Secondly. Providing Segregated Routes alongside arterial roads. For cross conurbation journeys and journeys out of area commuter cyclists are likely to use main roads habitually. Providing these roads with separate space for cycling where it exists would increase likelihood of use for new riders.
A341 Queen Anne Drive/ Magna Road. Space exists for quality segregated route both sides of this road as Wheelers Lane. (where routes via Canford Heath avoid Ringwood road entirely) Benefits anyone visiting Wimborne/ Broadstone /Poole.
A347 New Road. For much of its length centre space exists unused. Provide some sort of marked cycle route.
Whitelegg way full length. Either side of road segregated routes taking cyclists off road, removing inferior gutter inside solid white line.
Redhill drive. At present signed with Solid white line which does not exist on ground. Improve edges and remove hatched lines replace with solid white line no entry/ no parking. Redhill park, provides space for adjacent segregated route up to Fire Station.
Thirdly- Improvements to existing routes-
Bourne Valley Greenway Middle and Upper Gardens sections. Again last century building. Here are two parallel routes one pedestrian and one cycling. Improve lighting along entire route. Improve surfacing to eliminate roots and uneven surface. Remove useless white paint lines on cycling side and designate Cycling side/ Pedestrian side/ centre for clarity. After Dalling Road, provide surface and improve gate access to continue onto Winston Avenue.
Bourne Valley Greenway North end. All this area is desirable for improvement. Including removal of circular gates unsuited to cycles. Directional Perfection exists at end of Bloxworth road North onto existing signed route, surface is sandy and could be improved. Route alongside St Brelades Avenue also needs proper surfacing.
Evering avenue South East end. Is gated access road which joins Bloxworth road, surfacing along this route and small slope down to Bloxworth road. Surfacing intelligently along desire lines has proven to not interfere with SSSI'S within nature reserves. Effecting these changes provides residents of Canford Heath , Branksome and Rossmore almost entire off road route into Bournemouth town centre.
Fourthly -Providing Signed advised routes-
Boundary Road. West side north of Gorsecliff road to Eynsbury Park Gyratory, East side south of Gorsecliff to Glenmoor road. Both sides here contain service roads that run parallel to major road. Surfacing and signing these parallel routes. After Pedestrian crossing space both sides of road for separate route from and around Boundary Roundabout East and West.
Visions, these are type of ideas that visionary leaders of Councils build in European Active Travel Cultures. Using our exisiting assets in order to improve visitor experience to Poolemouth.
Chines and others.
Alum Chine. To complement the signed first opening of Middle Chine a route that many already cycle. Space exists alongside for separate surfaced route using the whole chine valley floor. At North end steep slope included still with separate capability underneath bridges to join valley floor to seafront.
Branksome Chine. From St Aldhelms Road Southwards. Where service roads exist and within the chine a surfaced route direct to the seafront. Providing an alternative way of reaching the beach at peak holiday time from Branksome Station could significantly improve annual parking problems.
Glenfurness Avenue. Essential route from University to Westbourne and Bourne Valley Greenway/ Town Centre. Boulevard style street width. With space for separate route either side, re-design of entire road using width. Including Shared Railway crossing on East side.
There are many other schemes that are either underway that I look forward to seeing reach fruition. As well as vision like closing Lansdowne road as the boulevard of Bournemouth. Whilst I am aware some of the ideas I provide may always remain ideas, we need ideas. The future is now.
Oh by the way look out for the new surfaced route past West Central- a test case for Bournemouth, Ive been trying to engage Council and Sustrans about this for ages with utter silence- lets see what happens when this goes on the ground.
Next cycle forum meeting at Bournemouth town hall is 13 March. You are welcome to attend.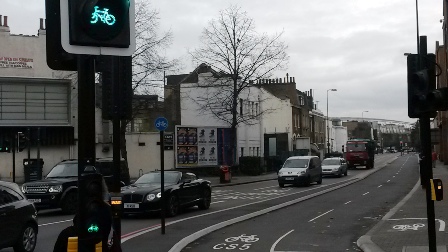 Here is an important paper about what has worked and what hasnt in London