Visions became reality last night on a bus ride from Westbourne to Bournemouth Square. New Years celebrants of every creed and bad clothing choice united to get downtown together on cheap transport with someone elses responsibility. Standing up it did feel like Manchester or London rides, no one here made that choice because they were greenies, it was just the easiest choice on the day. Opportunities for early chat-ups combined with English banter leading to a certainly different bus ride from normal days, regardless of what sort of clobber you had on and what class party you were going to we were all on there last night. Getting back on topic, theres cash floating about in the 3 towns travel project to enable these West- Central- East bus links to become the obvious choice for commuters, in theme of this post, jumping a bus in many cities isnt an ethical decision, it just makes sense.
Travel Vision keeps me going, reviewing the years travel by bike to work and play, Copenhagen trip, London repeat visits this post condenses some of the ideas Ive got going right now. Ive got many colleagues in the Bournemouth area and these will be the things I will be pushing over the next year. Since 2008 the idea of Cycle journeys, priority and innovation have been my driver in many encounters with those tasked with Travel. Using the excellent Taras Grescoe book last year I compiled a snapshot of what innovations have changed the cultures of various countries. Cannot recommend 'Straphanger' enough to anyone who imagines what continued shortsightedness of travel will lead to.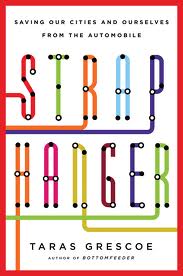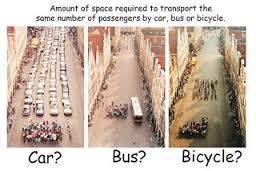 Routes vs Queues, Im currently writing the best cycle routes around the area, timing them from experience of riding. A favourite one to give you an idea are Poole- Coy Pond to Bournemouth town centre, this route along the Bourne Valley Greenway is the direct N-W to S-W direction that by passes the hell on earth West-East queues enjoyed every day on Wallisdown/ Wimbourne roads, Yarmouth Road and Poole Road. The sweetest preserved area of forestry and gardens, takes me about 10 minutes direct. Timed it on another ride today and it took 11 minutes,I dismounted once and gave way to a road once, this is 5 Kilometres which matches the account given here of similar journeys in Holland . Okay so I might go a little faster than new commuter cyclists but theres no harm in pointing out potentialities.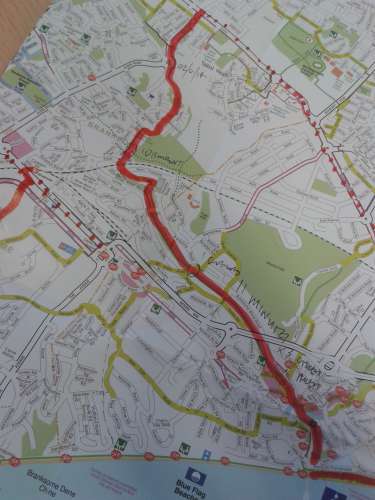 This is largely for an upcoming talk Im giving at a womens only cycle promotion event, the wierdest thing is that people who dont cycle, dont often have any concept of the fact that there are faster- more direct routes when youve discovered them, guess the habitual nature of humans + cars limits to those connections that are the only available ones. The 2014-15 cycle map has me credited as the photo editor, as many of them were my work, worth a look for whats existing now. While Council colleagues push for continuous cycle routes and I continue to supply them with info on best places, I remain positive on change. Bournemouth/ Poole is like a huge Centre parks, the chines that lead down to the beach could become the largest free cycle destinations in the S/W for their natural beauty. For example trains to Branksome which then link straight to a delightful 20 minute roll along cycle designated path to the beach are also part of a large submission Ive made to the Poole Seafront Strategy
Road Closures, borrowing directly from Grescoes report on Bogota, Columbia, Ive located the roads that would need to be closed to enable a weekly town-centre wide road closure event. 'Sunny Sundays' or similar. Wait:- even casual readers can see that the West -East roads need to be kept open, so, with the thought that no-one needs to go south into the sea this makes Bournemouth an even easier place to start this idea. Running bus turnarounds into the Triangle from West, Old Christchurch Road from East and Wimbourne Road/ Lansdowne Road from North to bring people into town, with closed roads for cycling, pedestrian areas maintained. Imagine family cycling along seafront, family games and activities in Meyrick park, market stalls coffee and goodies along a closed road Lansdowne Boulevard. It would be great. If Lorena Jones could close the whole town centre last year mid summer season, to run one of only 2 British towns combined Sky Ride/ Omnium racing this could be done. Every time theres a road closure people love it, re-peopling place. Bogata info can be read here– truly inspiring stuff
Moving on to Grescoes book, I wrote and posted this on the wall of the Council transportation dept. months ago. It got removed, but still just glancing over the themes fills me with optimism, culture is created by what people DO.
These are some of the key elements present in developing active travel cities. With absolute credit to Grescoe.
Streets with swings, planters, shrubs, picnic tables etc- Cafe Society. Bollards on pavements- reclaim pedestrian zones. Pedestriansim all day, except for necessary deliveries early A.M. Weekly road closures. Head starts over cars at traffic lights- avoiding incidents.
Incentivising bike lanes- green waves, traffic lights, continuous flow. Bike use costs nothing only infrastructure needed. Bike hire schemes.
Bus Rapid transit. Car sharing schemes.Express bus routes, prepaid fares, rapid with dedicated rights of way. Public transport costs less than parking. Disincenttives for car use-ccost of taxing/ registering. Busways segregated fast routes. Taxis with bike carrying spaces.
New build offices+ commercial buildings with indoor bike spaces, freight and elevator use. Beach in town ideas, sand pits, sunbathing spots.
And the most difficult- Bold decisions in area of congestion r.e Prioritisation. Gradual reduction of parking space e.g 3% year. Gradual increase in car parking costs- eliminate tiny car journeys. Curbing weekday rush hours by mitigation-driving disallowed to specific Reg. Plates on 2 days a week. Strict Liability applied to motorists.
These may seem like far off visions, but the damage done by sedentary travel now is happening today.