MapRun
Todays post brings together the last 11 weeks of the U.Ks adjustment to the COVID19 era and how my clubmates in running have adapted. Happy to say I first coined the term 'Maprun' in 2016, which was when the Australian Clubs formulated the tech to provide this new format of the sport. In 2018 NGOC were the first U.K club to take on incorporating it into their activities, and now with many other aspects of life, COVID has just accelerated what would have happened.
Although 'proper' orienteering hasn't been taking place in the UK, many people have been busy setting up alternative options, including Virtual Orienteering using Street Map, Catching Features and other software. These competitions have been attended by the Elites of the sport, all the European squads that train so hard all year to make their seasons racing. These competitions have had limited numbers of entrants and a cost as well, so you'll have perhaps been doing online races against the likes of Thierry Gueorgiou as some Wessex members have been. British Orienteering have jumped into the changes made at short notice too and given us a National Approval of this new form of Navigating, they are being called V.O.Cs -Virtual Orienteering Courses.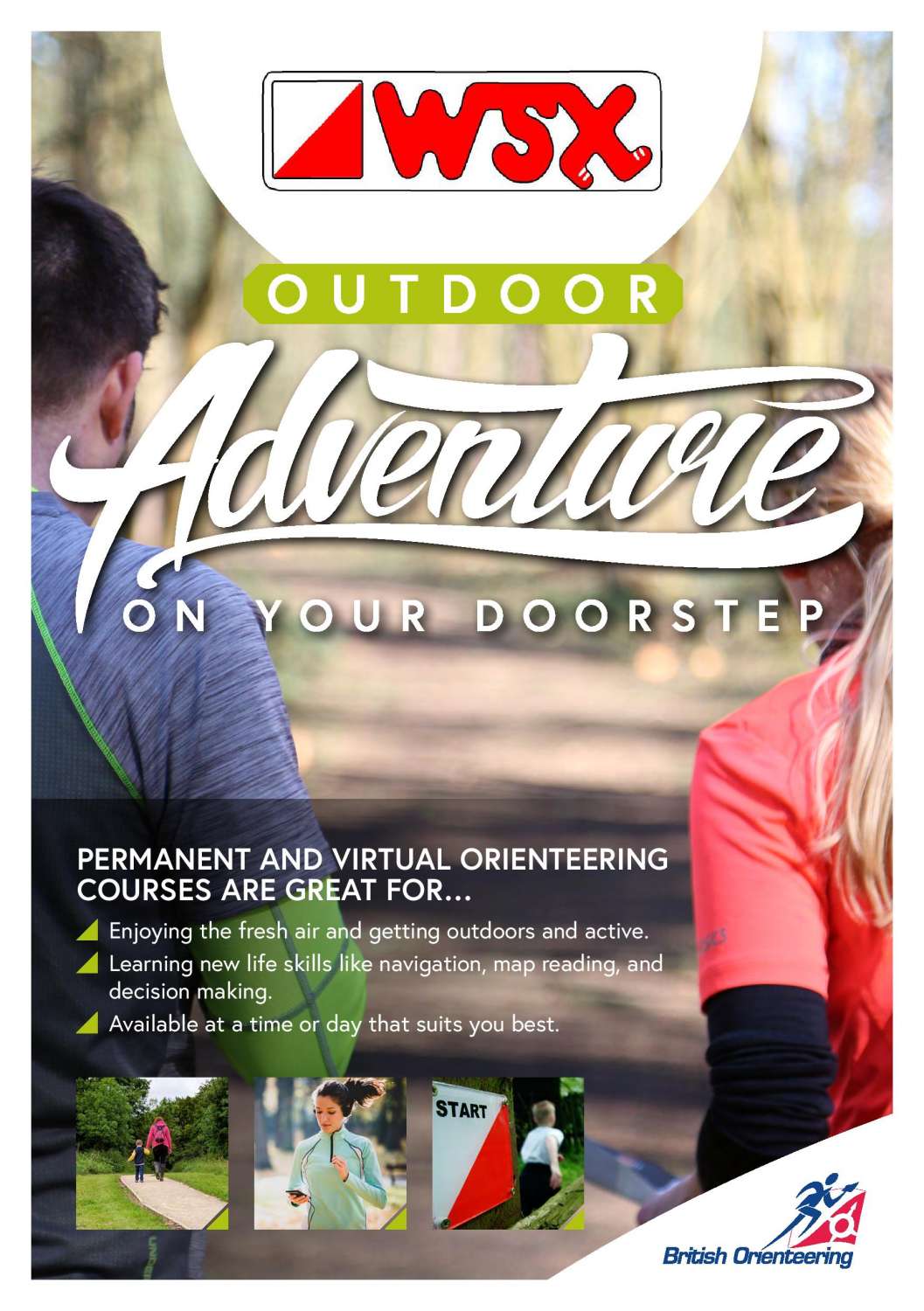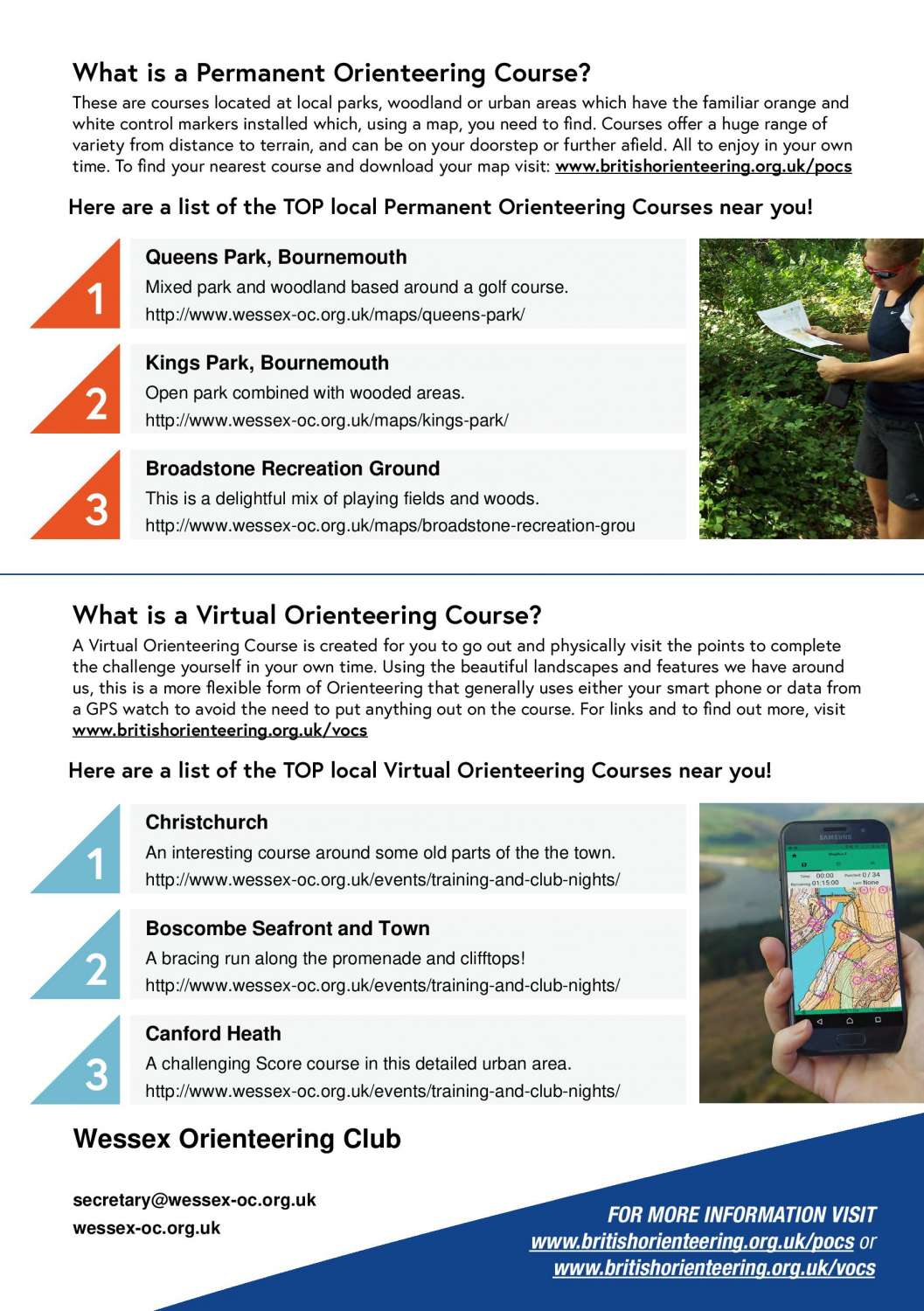 Now locally there are now an increasing number of MapRun courses which both WIM and WSX have been setting up – one of the latest being Poole Town which was uploaded last week. Alan Blanchflower also set up the Upton MapRun challenge which replaced our planned club night on the 8th June. It'd be great if lots of people could have a go and we can compare results, this is an every day competition- so you are socially distanced running. Its also part of a league of Mapruns that started this week- that my great club mates have set up. So proud of our joint working on this, there will a whole summer of places that are now set up so watch our websites for full dates and details of these upcoming heres a draft- first ideas, dates below:-
summer 2020 League
8-14 June started, this week – Upton
13-21 June – Verwood North
20-28 June – Blandford
27 June – 05 July – Wimborne By the Way Field
4- 12 July – Poole Town
11-19 July Boscombe
18-26 July Shillingstone
25 July -2 August Gillingham
1-9 August Canford Heath
8-16 August Shaftesbury
15-23 August Sturminster Newton
22-30 -August Bridport
All the maps can be printed by going to the 'Training and MapRun' page on our website (under the 'Events and MapRun' menu). Jolyon is currently putting the final touches to our first non-urban area out at Greenberry (Holmsley) which sounds like it's going to be a real challenge, even for our top runners. Heres the way that they look-
Open Orienteering versions are less complex than traditional maps, so be aware the White forest area just shows areas of trees, and not different densities of trees as normal. You can see Alans done really well to make the numbers correspond with the point values 14=10, 51=50 etc etc. Simplifies the numeracy which I'm always glad of! They are produced at 1:10,000 scale like all the O.S Explorer maps, 1 KM is a 4 cm square, so if youre used to navigating on those an easy sizing to understand. You get the chance to plan your route first which is the key difference, but still very challenging matching your ability to run distance and navigate in a set time.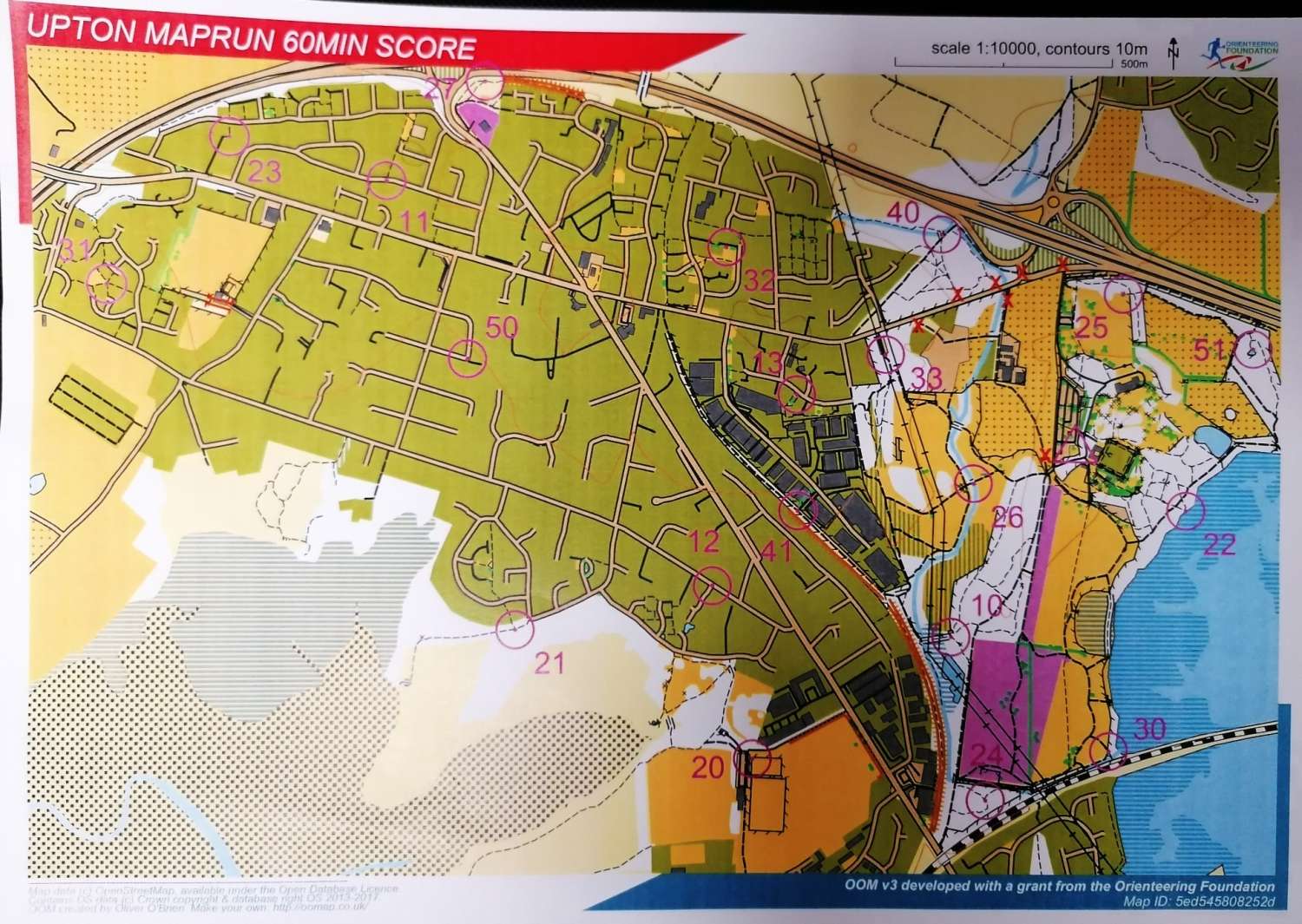 Regular O maps- these tend to be smaller scale, 1:4 or 5, 000- There are versions that use the Control Descriptions seen in a separate box, with lowest numbers having lowest scores- The By the Way Wimborne one shown here,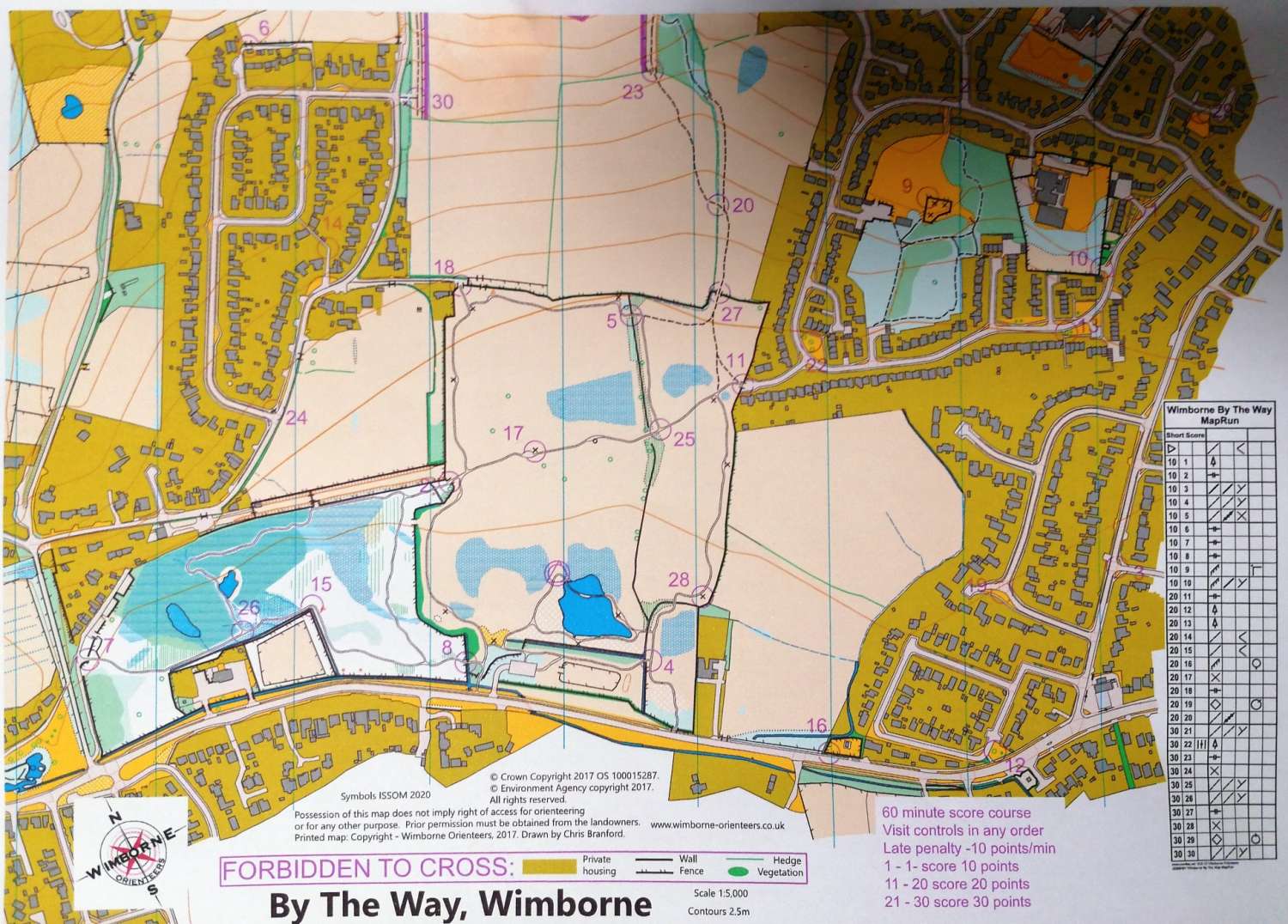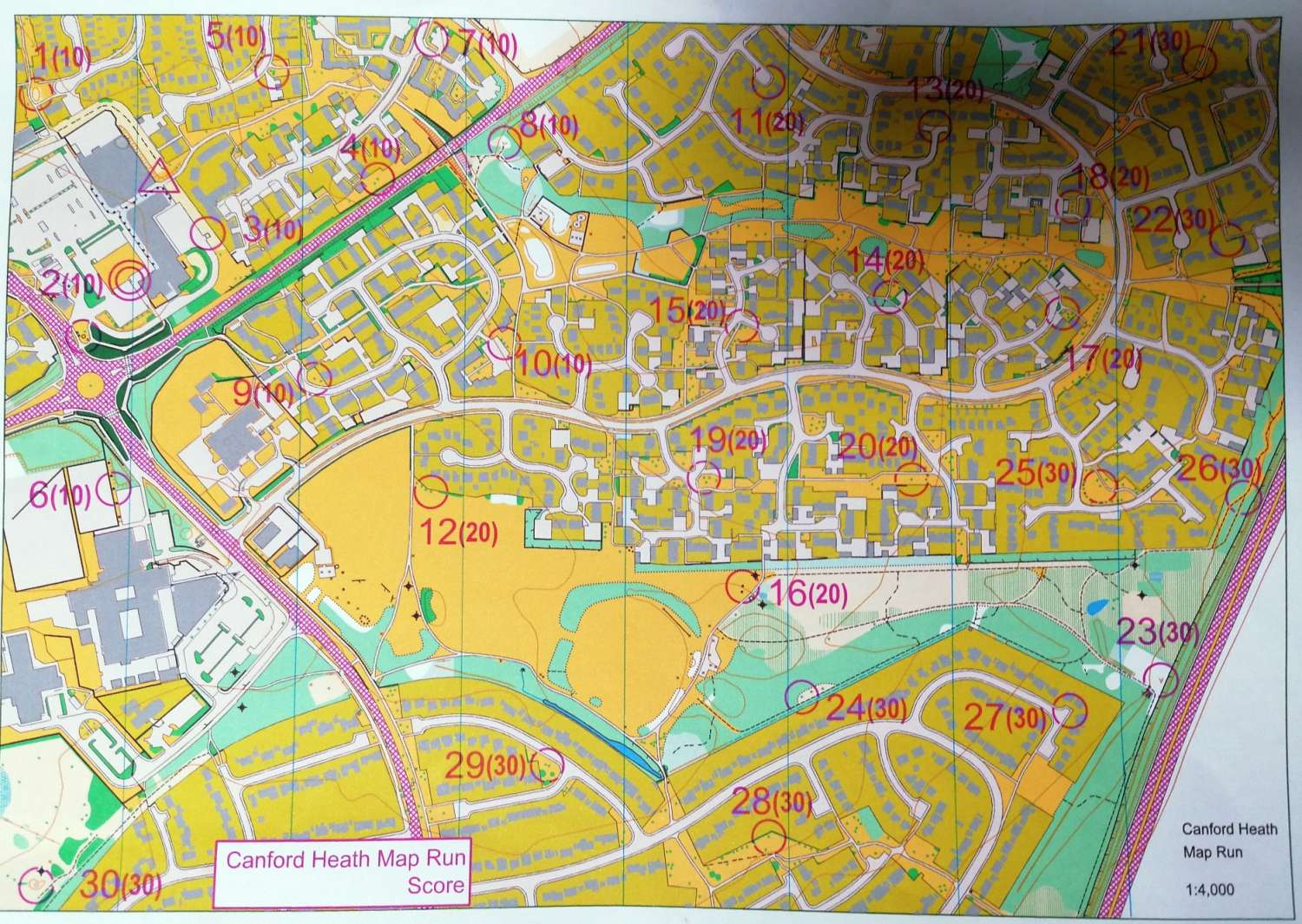 Or Scores next to the control as shown on Dales Canford Heath Maprun above, this map is superb, literally every tree, bush and minute feature is shown. Currently the most amount of runners recorded their times on this one, we invite you to come and explore using Maprun.
Full details of how to get Maprun.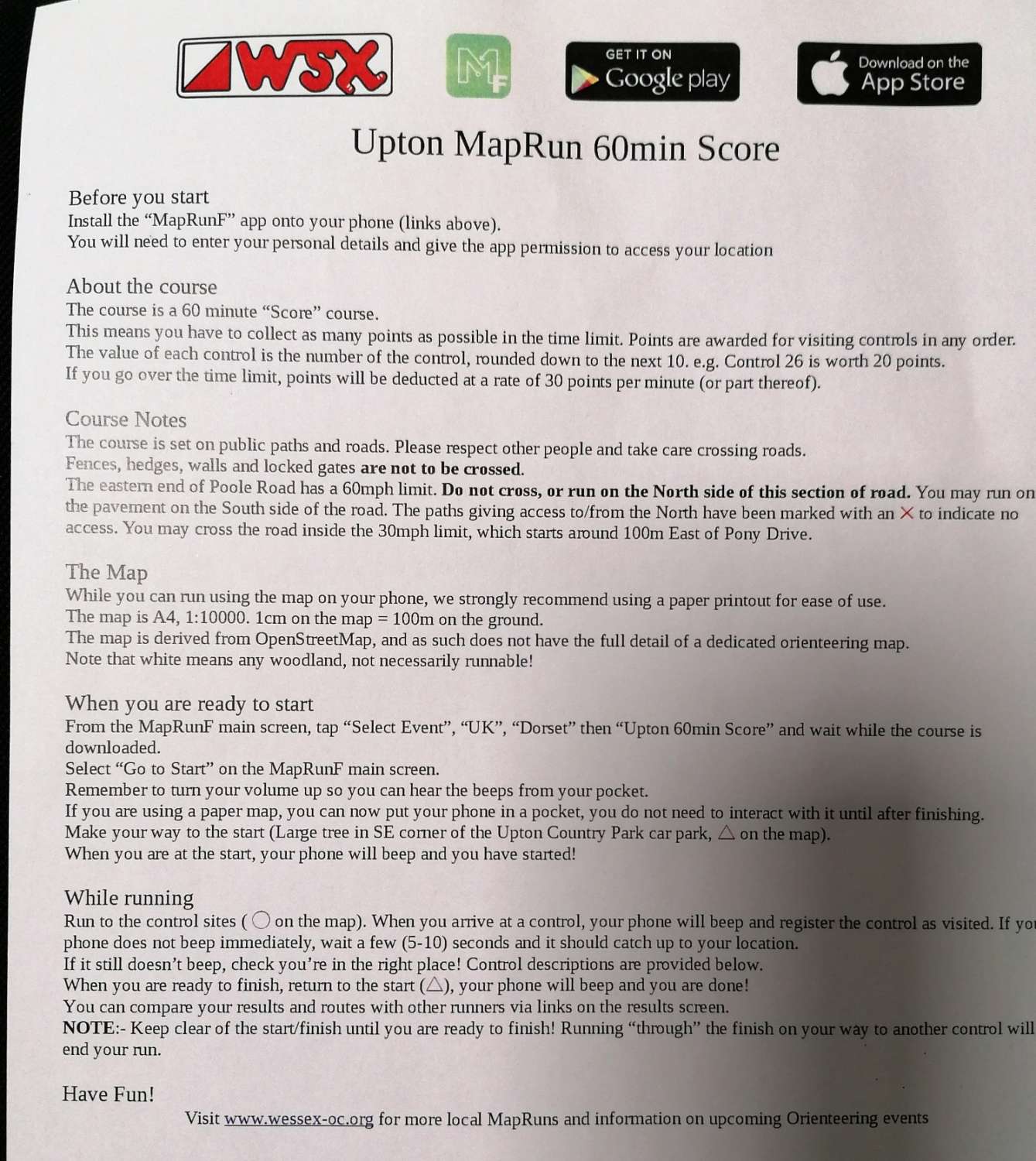 Other COVID actions from Orienteers- Chris Branford of WIM has also recently set up a Postbox Challenge for Blandford Forum, using the Open Orienteering Map format – basically, all the controls are post boxes, so easy to spot! This might be another option that we could set up for our urban maps. Its likely that we will also create MapRuns based on some of our Permanent Orienteering Courses. If it is possible, then we'd be able to see exactly who's using these areas. It's worth a try.
Grass Roots Support
My own help to Poole Locals, I had some spare maps from Beat The Street celebration 2018, and set up a giveaway on the Ark Cafe Poole park, the site of WSX first ever Permanent course. Happy to say all 200 maps were taken during the first 8 weeks of Lockdown proper. I would love to know who took them, because even now years into blogging and tweeting- and with my own phone number on these maps- not one person go back in touch to say "It was rubbish" or even, "It was great" .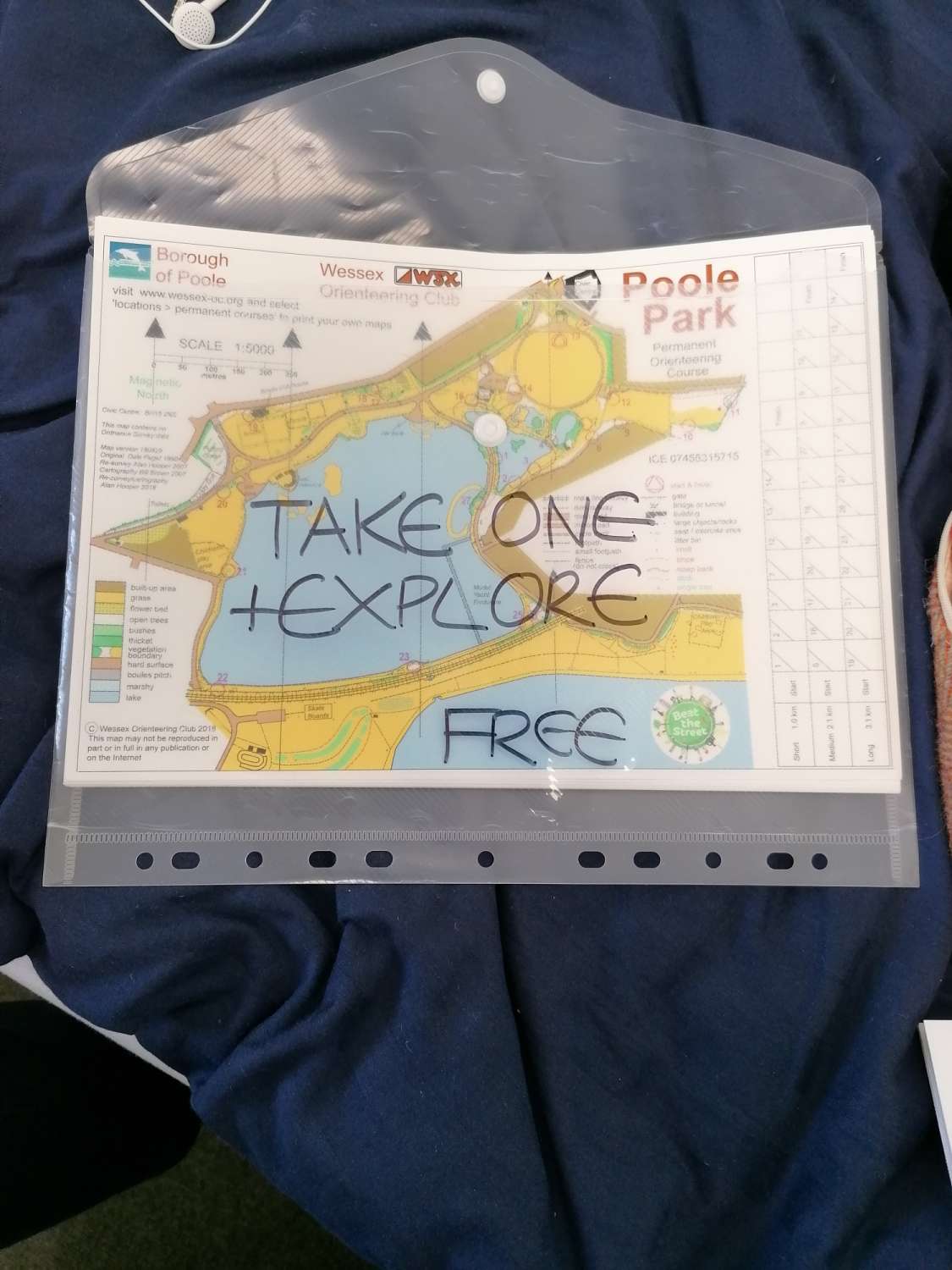 So what's happening to 'event' orienteering? Well, there's been a lot of discussion about how we can resume the sport safely and BOF has recently put out an email on their latest thinking on this matter. If you're a BOF member you should have received it. Enjoy your running and do drop us a message about any of this.
Lastly just to report that YST Youth Sport Trust have added Orienteering to the Schools P.E fundamental Sports, with this and more partner work with Active Dorset for some more courses my map making work is busier than its ever been.