Week three of the first Y.f.C Yoga for Cyclists course I am teaching in Bournemouth, 27 students over the last three Wednesday evenings. Yes you did read that correctly, its Yoga, for my cyclist friends and family. July 07 2012 I was hospitalised after a S.M.I.D.S.Y (sorry mate I didn't see you) road collision. The advice of the Neurological doctors finalising my full recovery in September 12 strongly observed that my evident physical fitness and flexibility from yoga and a lifetime of cycling had led to rapid recovery from injury. Herein direct proof of the connection between regular cycling and yoga practice resulting in rapid recovery from injury, and the vast majority of sport cyclists do sustain injuries throughout their careers. As with other sports there are relatively few individuals who have publicised the link between benefits of Yoga practice, an example being Ryan Giggs from Football, who at 40+ is the only remaining Premier League footballer retained at that age. The benefits of health, flexibility and self- awareness cannot be underestimated for better quality of life.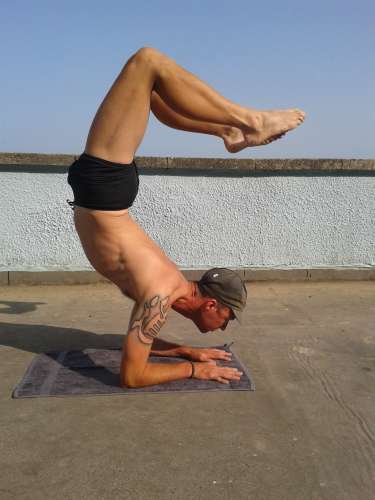 Yoga came me after several years of friends and colleagues telling me the practice would sort out my hyperactivity. Early Integral Yoga classes in Australia 1998 transformed into years of training with a variety of U.K teachers, discovering the magic of male teaching with Kevin Silous in 2003 http://www.peacefulpathyoga.co.uk/about-me.html By 2008 relocation to Bournemouth enabled Jason to find Keith Grant, where his teacher training began. http://www.yogaco.net/ At this time 2009 I began incorporating Yoga sessions into group work with colleagues and others, building experience of teaching the original stress relief techniques to others, whilst maintaining a daily practice pushing the edges of my own ability. In July 2013 I completed the Independent Yoga Network 200 hours qualification with Keith, whos varied background includes training with Luminaries such as Godfrey Devereaux, work with Tripsichore Yoga, and who is now a Yoga Elder with I.Y.N having 5000 hours teaching experience with the fascinating science of Yoga. Read about the full U.K status of Yoga here:- http://www.independentyoganetwork.org/
Yoga for Cyclists –Y.f.C consists of three major themes:-
Firstly:- Compensatory:- Dealing with what gets lost during frequent repetitive cycling activity. Bringing a range of movements to rebalance the physical self, a range of fundamental movements to equalise body harmony, probably the most requested aspect of the project. Within the realms of most students who simply want to rebalance the physical body.
Physiotherapists have commented that everyone over 40 should practise Yoga, We associate every sequence that improves joint flexibility with this theme.
Secondly:- Supplemental:- Building overall fitness which can be utilised within the sporting interests of the student. The most physically demanding option, applied to road, track and mountain bike riders these aspects of lessons aim to strengthen the students ability to access full use of the lungs and deep breathing and link to a very controlled raising of the heart rate, similar to interval training familiar in above cycle sport disciplines. This form of yoga training can help student to maintain high levels of fitness and flexibility, and supplement this by extending variety of movements whilst at the same time utilising higher heart rates at a high level of self-awareness. All this practice will assist in racing scenarios across cycle sport where racers have to apply sprint tactics during selected short periods of races. We associate the most dynamic sequences with this theme.
Thirdly:- Regenerative:- Adding the opportunities to spend time refocusing the mind and body through the meditative aspects of pranayama (breathing techniques) and stillness.