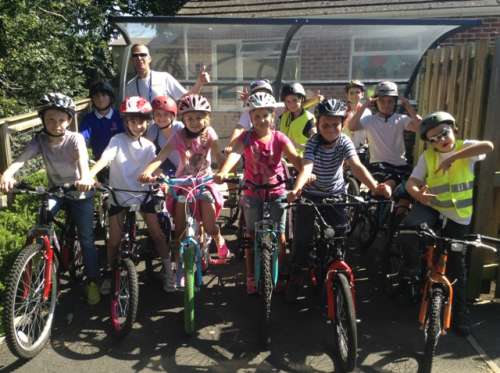 Celebration post today, this time 24th September 2005 I undertook the 4 day Instructor course with C.T.U.K. which were at the time based in Lambeth. Nostalgias not what its used to be you may find it interesting to hear how road Cycling training used to be back then. Having lived in Elephant and Castle for a couple of years it was great riding around Lambeth again doing the training in 2005, maybe even easier now with Boris' interventions who knows? Luton were the Council that first employed me to join their team of trainers and that was really my first taste of freelancing. After the 4 days training riders are advised to have their post-course assessment within a year, my situation meant it was more like 2 years of being a co-instructor before I was visited by London staff to witness my teaching, but that meant I had plenty of practice before the assessment making it easier.
Times then were still very dominated nationally by the Road Safety departments in Councils, London leading the way as with most things. Cycle Proficiency (hereon referred to as CP) had held sway since the 1950's and some of the staff in charge of it were still employed from that era. London staff couldnt believe that Bedford for example were still stolidly delivering strictly off road teaching and it was, and in fact still is sometime difficult to inform people children should be allowed to ride around the streets where they live. Between 2005- 2007 then I worked on Luton and Bedford streets and was instrumental in persuading Bedford to adopt Bikeability to their schedule. For reference the National Standard for cycle training was adopted in 2004, underpinning in 2007 the launch of Bikeability schools training by the then Cycling England. There are now over 20 Instructor Training Organisations with only a couple being Local Authorities, amazing to say there are still a few Councils remaining operating the old methods! For lifelong road riders and cycling clubs members like me its still an ongoing change in culture but like all things in Old Blighty culture change takes decades, remember about 50 years of dubious quality training being provided before 2007.
So cutting my teeth on Luton streets was fun, tough neighbourhoods with some great characters, areas around Bury Park with 75% B/E.M kids on register. Fantastic names and energetic people to work with, they were great times with a fun group of riders working there. Start of 2007 Sustrans advertised for Luton, Bedford and St Albans Bike It Officer, which I went for and got which led to my 6 years service to the charity. Two last days teaching in Luton before starting a new role were eye opening- quick story. We were working with youth centre in Hightown providing training and bikes for some exclusion kids, working for a local guy called Taj, diamond guy doing what he could for local people. The days training started and we banned one lad off the course before leaving the base, he clearly wasn't going to be safe on the road, wheelying and throwing the bike around before we even started. Making our way to the local school in a snake, this lad was trying to steal a bike back off the group which meant some physical restraint needed from one of the staffers. Started teaching on the playground level 1 skills topics, when the banned lad turned up with a gang of mates, and started throwing stones at us and the group from over the fence, cue- telephone call to the local police, who came around and moved them on. Day before starting new job I was leading a group of 3 on a level 2 session taking the lane as usual in Victorian streetscape, up behind us a car arrived aggressively beeping and gesturing us to get out of the way. I stopped in the road and instructed the children to get off and wait on the pavement, to deal with the driver and inform him what we were doing. Two lads jumped out of the car, running up to me and acting like they were about to beat me up, shouting at me asking "are you an officer, are you an officer??" , Oh no. Luckily a P.C.S.O. approached on the beat and I called him over, he took over and I rode off with the kids! Ah couple of great days. During the era 2007-2013 I carried on delivering a couple of courses a year, linking and promoting the training with colleagues and keeping my hand in with practical work.
Schools-then and now, again it takes individuals with genuine interest to initiate training courses, schools being like the microcosm institutions they are can suffer from years of their children missing out on what is largely free service for their kids just because theres no one interested in it locally. Having Councils administering the courses has side effects, with office staff in schools not always knowing the details of the 8 hours course. We have made progress nationally and many schools are keyed into getting their 10 years olds trained as a matter of course, although recent research showed that only around 25% of all the age group receive training nationally. Years ago the afterschools slot was the only time that would be considered by school staff, and in the Summer term after Easter- which really limits the chance to teach to about 12 weeks between April and July. Happily now there are more flexible staff and many schools run courses in spring, summer and autumn terms. Times too- theres no reason why P.E time cannot be used for this physical activity, better P.E staff and seniors can add courses to in school time, case in point the photo here from the recently expanded Heatherlands school in Parkstone- I will be working there next week in day time 1.00-3.00 P.M which is brilliant. So 2013 to present day freelance work has seen the service become well integrated especially with Poole Council that work well for us instructors and providing a good living wage regardless of numbers on the courses. Progress comes incrementally more power to all trainers working on the roads today keep up the good work.
My 1000 words is nearly up for this post, this work is part of a service I see as the most ethical work I do, and invaluable and I'm proud to have been doing this 10 years. Kids are great fun, and today Im as passionate as ever about their ability to be able to explore and know their neighbourhoods by bike. This is what drives me to do all this work over the years.
Tuesday 29th If you'd like to join me for a cleansing ale at the Porterhouse Westbourne, after Heatherlands day work I'll be going there early doors 5 P.M to celebrate this 10 year anniversary.