Branksome- Beach- Route 25
A stunning day outside prompted me to get this route plan out there, these sorts of days in sunshine make Bournemouth and Poole look like San Diego California- no really they do, read on. The following route whilst isnt really a route choice that will get you away from queueing traffic like the last 2 posts, does link with Active Travel, it starts at Branksome station.
I rode this today before shopping, through the thousands of Pines and Firs, with the odd Sequoia, truly stunning place to explore by bike, we really do live in Centreparcs by the sea, check it out its worth it. Leaving the station and crossing the Poole road you head past the St Aldhelms church and directly onto St Aldhelms Cres. Head left onto Whittingham rd which is a rough surfaced track heading down it turns into surfaced road and meets a T. Junction at Tower road where the trail starts. This is messy right now, but when it dries out most of this route has 2 parallel tracks heading to the sea. Superb old growth forest, just watch out for other users and slow down if you need to pass safely. In 10 minutes you will meet the seafront, after streams, big palms and more. Heavenly.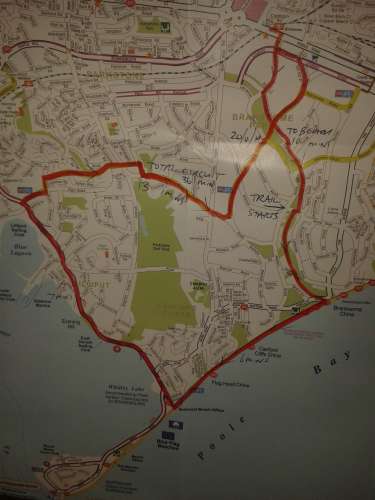 Passing Canford Cliffs continue in a west direction on promenade, this is available all year, restricted in peak tourist season by a 10-6 daytime curfew just July and August, really not too much inconvenience on a years cycling, and if you are a commuter cyclist and use the bike for work riding in crowds of tourists really isnt much fun. So Canford cliffs between the beach huts is the areas S.S.S.I, here live all of the 6 Native reptiles we have in the U.K, 3 types of lizard and 3 types of snake, a special area of Dorset indeed. You'll reach Shore road for refreshments, and either head around the Sandbanks peninsula to explore or turn right for continuation of the mapped route here. Many cycle clubs do use this area for training, the roads are wide open and long from Haven road uphill, hence the popularity for riders training.
Im concentrating next on the signed Sustrans route 25 which is all year, provided to compensate for the cycle ban during July/ August. Heading along the Sandbanks road which has a marked cycle route surface, around the Poole bay the location of some of the most obscene houses in Britain, and wierdly enough some of the most delightful. The view over to Brownsea Island is a treat, this bay has become one of the U.Ks top destinations for Kite Boarding, lots of instructors use the area for teaching. Be sure to look out for the 1930's Art Deco beauties at Marina drive, fantastic period architecture just before you turn off to signed again route marked for Westbourne. That section took me another 13 minutes today. Continue on the same road for Poole or follow the red route on attached map here.
Turning into Elgin road follow the signs through residential areas that while arent painted on the ground, are wide enough to enjoy along with the forested canopy. After hard days working in summer this area really rewards with trips to and from the beach, real treat destination away from the queues on Sandbanks at the peak of summer holidays. Youll cross the main Canford Cliffs road and head some up slight hills to Wilderton road west, the choice here is back to Branksome Station along a short section of Lindsay road, or turn to Westbourne a short distance away. Back at Branksome now, a 36 minute round trip. I hope youll enjoy exploring this treat.