Wallisdown- Town Centre Bournemouth
Routes vs Queues, Im currently writing the best cycle routes around the area, timing them from experience of riding. A favourite one to give you an idea are Poole- Coy Pond to Bournemouth town centre, this route along the Bourne Valley Greenway is the direct N-W to S-W direction that by passes the hell on earth West-East queues enjoyed every day on Wallisdown/ Wimbourne roads, Yarmouth Road and Poole Road. The sweetest preserved area of forestry and gardens, takes me about 10 minutes direct. Timed it on another ride today and it took 11 minutes,I dismounted once and gave way to a road once, this is 5 Kilometres which matches the account given here of similar journeys in Netherlands Okay so I might go a little faster than new commuter cyclists but theres no harm in pointing out potentialities.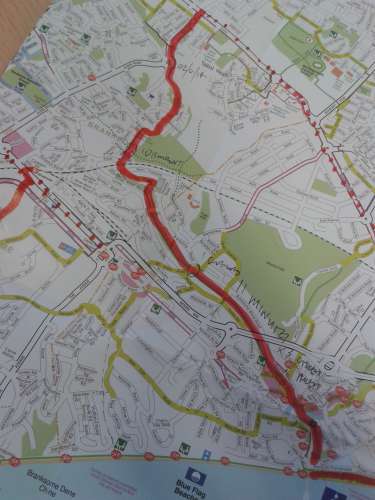 the wierdest thing is that people who dont cycle, dont often have any concept of the fact that there are faster- more direct routes when youve discovered them, guess the habitual nature of humans + cars limits to those connections that are the only available ones. The 2014-15 cycle map has me credited as the photo editor, as many of them were my work, worth a look for whats existing now. While Council colleagues push for continuous cycle routes and I continue to supply them with info on best places, I remain positive on change. Bournemouth/ Poole is like a huge Centre parks, the chines that lead down to the beach could become the largest free cycle destinations in the S/W for their natural beauty. For example trains to Branksome which then link straight to a delightful 20 minute roll along cycle designated path to the beach, we live in one of the most beautiful areas in the U.K. All there to be discovered by bike, for the health, freedom and adventure.