Ive always been an early adopter on Bike tech. This week just gone was lucky enough to borrow a new machine with which to help make a couple of time pressured journeys easier. This is how it went. Initially when working for Sustrans I had 3 areas in my patch, to be able to make appointments in between Bedford- Luton and St. Albans I used a Birdy folder, one of the best folding bikes made for train journeys, and indispensible for me at that time- German Tech. Raising this again as Sustrans staff were at that time paid to make active travel journeys, all staff were issued a folder to make the link between meetings, work and train journeys seamlessly. Leaving Bedford at 8 ish the train journey was 20 minutes exactly and the bike journey to schools could be measured to exact times even then as now despite the traffic queues we can make exact timed journeys by bike in all urban centres every day. Trains sometimes don't take lots of bikes, but the folding machine takes the space of a suitcase and can go on any train at any time. This planning background is what still allows me to fit a busy schedule into a freelance life. During the years with Sustrans the first 29ers started to come into vogue and these seemed like the best way to make distance across woods and trails as well as the train bike. 2005 then was 29er time and after 5 years of that in 2010 I adopted the Alfine Hub Gear 8 speed, that removed the excess transmission and meant a cleaner simpler ride all round. Eye brows were raised at this build- I put onto a Gary Fisher 29er, complete with balloon tyres and Jones bars for a super –carving distance rolling treat. Unusual but I like unusual products and things that innovate. Actually this was within the standard gearing and the gear 5-6 jump grated enough for me to want to update to the next level of the Rohloff, perhaps the aspiration of the serious long term cyclist. Come back to that later in this post.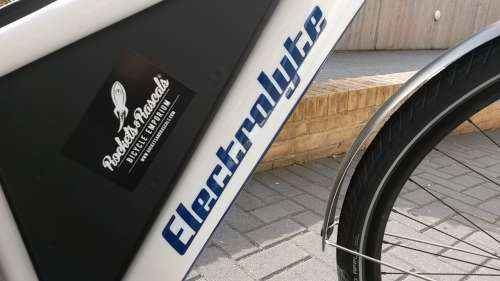 Back on topic to the week just passed where there arose an occasion where I had promised someone a teaching session then other unrefusable work had come up- meaning I had created a tight time frame to fill on Thursday. Needing to shrink a 30 minute journey to a 15 each way for a return trip I borrowed an Electrolyte power assist Vorradler from the one year old this week! -Rockets and Rascals Lilliput, and my friend there a superb mechanic whom Ive known from many years working in Poole. Being honest the Sunday morning dads ride is a slot I try and avoid now- making all trips each week by bike means I don't crave the Sunday hit of a club ride or solo, its far more about leading the active travel revolution all week by example for me. Taking a power assist for midweek timescale didn't provide me with any embarrassment at all, new products are for trying after all. After picking up at 745 thursday A.M and prepping for work, first chance the assist kicked in was on a local hill that the previous rider had happily red light jumped at, I had waited with the rest of the traffic and wasted no time after getting green to zoom up the hill and deliver this idiot with a bollocking for making me and all cyclists look bad for ignoring signals. He didn't get the diplomatic treatment I'm known for put it that way, don't red light jump. Getting to grips with the power assist was interesting, the bike is naturally heavy with a big battery on it, and I found a little frustration with the way it seemed to keep topping out at 25. Kph. Actually this emerged as one of the key skills of managing a power assist bike, theres a sweet spot that engages the power- that you have to play with. First trip to work coaching a busy day didn't start the heart as normal which was a bonus. Later on then the trip between Slades Farm and Broadstone for other teaching was next- here mainly downhill and by route choice arterial roads I was topping out at 35-40kph, where the power was really irrelevant, it handled well at this speed but again I became frustrated on completely flat surfaces- seemingly topping out around the speed that I and all roadies can happily ride at. Guess the reward came from Darbys corner up Broadstone hill- pictured. Here the steady pedal provides the system with just the right power assist to get up without raising the heart rate. Way that the power engages is so smooth now, really seamless and subtle. Work passed well and I was back on for the same journey back to next appointment. Now we were on happy hour, 5.15 and this was the most eagerly anticipated and important section. Id already sussed that these bike are best for hills, so making familiar distance climbs along Canford way, alongside queuing traffic, was a joy. Mountbatten Roundabout where I usually avoid passed momentarily and I enjoyed this blast immensely.
Deciding that if I lived in Brighton not Bournemouth Id have bought this machine instantly, the sheer pleasure of steaming up hills power assisted is heavenly, although I cant fit enough hills into a day in my area! In fact after a day I wanted to just find hills to ride up on this rig. We culturally like the effort of cycling, of beasting ourselves and going out for miles of tricky riding on MTB'S or fast miles on road bikes, theres something about that effort that motivates us. Perhaps its the struggler battler spirit of the British Bulldog that endures even on bikes, whereas theres a quarter of MTB'S that are being sold as Power assisted in Germany, here we are slower to adopt tech like this. I dropped the bike back at 745 A.M Friday, rode back to Westbourne on the seafront, part of the workplace time trial crowd again. Have to admit, theres another trial bike in Rockets and Rascals available- Im going to go and check it out, I might say that doing every journey by bike for work and leisure- Im worth it.
Rohloff. Theres a picture here of my January build, the 14 speed hub geared Surly Ogre, made for next ten years of all round riding. Love this build, again its German Tech, the best. Check it out. Great to write about what must comprise much of my waking hours between work. Life- as Bill Hicks said so well- Its just a ride. Have a great week.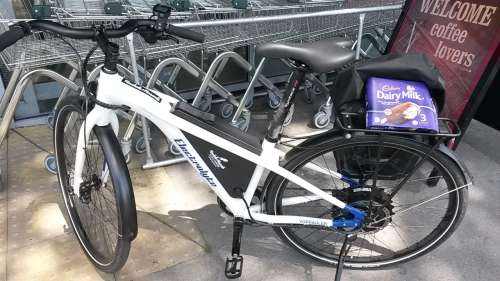 3 Icecreams later…