Durweston Dorset have completed 3 years of an Orienteering week 2015-2017
Website and photos here
2017 Program-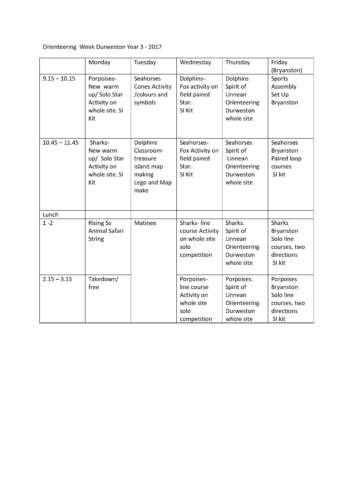 Were in that period post summer holidays between start of term again in September and a few days to write up summer work. This post celebrates a week's work I delivered with Wessex Club fellow coach in July, summer term 2 as it's called in schools. Across contacts in Dorset there are schools that take up Orienteering on occasion, some that become regulars at Dorset Schools Champs and like Durweston that make a week focus on the sport for a whole week. It's a great chance to teach and then involve the youngsters in a competition style event to bring it all together. Took the form of 4 days for all children in years 5/6 5/4 and 3, Durweston are lucky enough in numbers to work with combined age groups rather than strict age groups which is good for those unlucky july babies! The week's schedule meant an hour's session for each of the 3 classes above on each of the 4 days and included the following activities.
Day 1 In classroom -What is a map? Making table maps, Orienteering symbols and map colours, cardinal points, cone exercise:-essential skill of setting map to ground.
Day 2 Outdoors-Colours and symbol relays, compass use, tennis court maps and star courses.
Day 3 Completing Courses, exact placements, line courses in pairs. Using Sport-Ident equipment.
Day 4 Map memory warm up. Solo Orienteering competition:- score event using Sport-Ident equipment.
We also included the youngest children.
Day 5. Treasure map making in classroom for the youngest and a paired Line course for Reception Year 1/2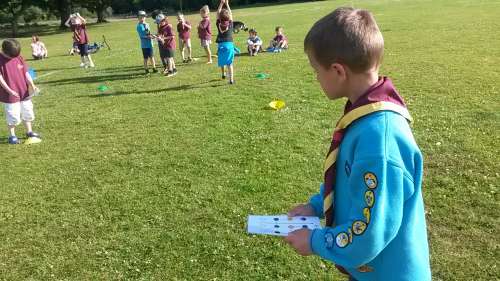 All the groups had a great time exploring some of the school and local area, luckily enough the neighbouring land is a churchyard on one side and the playing fields on the other which gave us a Kilometre width to play with on planning activities. After 3 days some of the responses to navigating around were interesting. Day 3 we set off pairs in opposite directions around a line course, the majority of them completed correctly but not all. Everyone got the chance to go again in the reverse direction and Year 4 especially were adamant they didn't need a map. This shows how at 9/10 years old a school site reflects the whole world of that child, as well as controls we had put out, the sections between them contain slopes, secret corners, playground furniture and more that they remember intimately. I found this interesting as thinking back to 1980 can still remember those places on my primary school site, it gives me great satisfaction to think when setting up new permanent courses for schools how they become an integral part of their built environment. One of the nights before work I had a great night moth trapping and took in an Eyed Hawk and an Elephant Hawk for the classes to see, luckily enough one for the teachers had a butterfly cage where they had been raising some butterflies which was spare, the kids loved seeing these superb insects too. In the future I'd like to do Moth trapping for schools from April- September as an occupation, (good to have dreams) Lovely to be working with nearby Hod hill in sight, one of the hills in a Dorset 3 Peaks race called the 'Stickler' great grass roots running event I've run in. I'm sure children and teachers of Durweston will tell you what a great week they had. Hopefully some of the groups will come to the upcoming Autumn events we have in the area, I'm including them on this post as we continually run an event schedule and are always looking for more people to enjoy our great areas. More locally this Autumn sees the opening of Queens Park and Boscombe chine with P.O.C.s- permanent Orienteering courses, that you will soon be able to print off maps for an explore at your leisure- do get involved there's heaps to do and not very far away!
Heres an upcoming list of events- many free, do share and drop me a message for pdf or word copies.