Sunday early start for a trip by car to the Thames Valley Orienteering Club heartlands of Oxfordshire. The club have several forests around the area of the Chilterns such as Wendover, Christmas Common and todays location Nettlebed and Highmoor. Todays event is the South Central Orienteering Association champs and annual Chiltern Challenge. We reached Nettlebed and I already saw 3 Red Kites, these hills have a growing population and along with the couple I see on the run, reveal how deeply we are in Red Kite country. Unique event today, these areas are all in Beech forest, so we are expecting a largely runnable forest and a fast competition. Terrain of this type contains large areas of open forest with tall mature trees, which means features used for controls are often earth features, pits, valleys, banks and lend a technical navigation challenge to competitors. Club mates and I locate the start and prepare for racing, as always proper hydration and my added choice of caffeine energy gel during warm up always sets me up for a concentrated effort. A special result deserves special music too-and this tracks words are my favourite.
The Race:- we are given a course of two halves on the Blue, 7.1 km distance with 100metres climb, 2 distinct areas which are marked in 2 scales. Open forest is the standard 1:10,000 whilst a complex area in the second half is scaled up to 1:5000 for the final section on windmill hill. Its' pretty cold today the forecast was for maximum 8 degrees, perhaps made bitter by the windy relative elevation of the area. Other runners will have had different maps, some shorter some longer, my competitive distance for age should be a Brown course, but I like the shorter run with same maximum Technical difficulty. Starting with an uphill straight over open country my focus is turned on and I locate the tower and first easily, im off! Having that first one go well helps to set up confidently, and establish a positive mental thought loop, means I will focus and get in the flow of it for the whole course better. Techniques of experience come into every step I run, approaching destination point Im reading the map while running, establishing the direction I will leave in, reading the number control I need for a check, and getting ready to smoothly visit the checkpoint- set a quick bearing and leave again to pick up speed immediately. Direction is fundamental- you must focus on knowing the direction, almost seeing the whole course as if from a helicopter, whilst at the same time homing into exact features that you pass on the way. Flow:- Im in it, running, reading, checking and treating each section as its own, despite feeling confident knowing that at any time I can make an error and drop down rapidly from the results.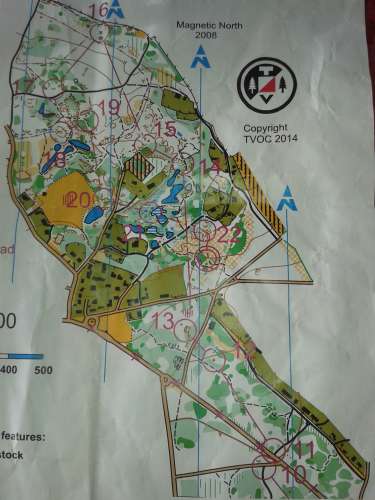 Into the second half, this area is heavily marked with earth features, lakes, tracks and small areas. Im doing well and know I have to shift a gear into a careful, more controlled type of running. The distance between checkpoints is much less, and I know that this sort of place can be tricky as so much complexity swamps the brain and decision making. Key coaching point on these sorts of intricate sections is to know that you haven't travelled very far, focusing on what is actually in front of you and not allowing impulsive decisions is crucial. Ten checkpoints in this area with lots of even deeper ponds than usual and loads of earth features, its difficult- but that's why Orienteers love it, challenging the brain and body together.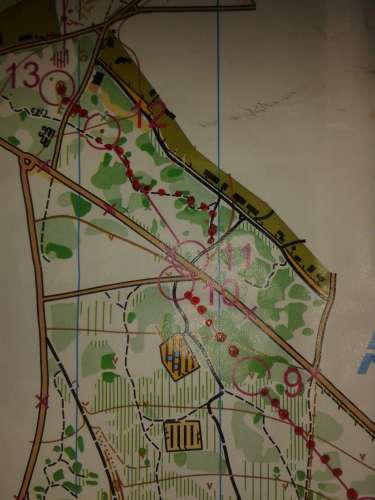 Result and analysis. Every competitor Ive met over the years, including elite athletes, never say they have had a perfect race. Another reason why this sport keeps us coming back for more- you can always get better. Im placed 1st/ 84 competitors on this Blue course, a once or twice occurrence in my winter season . Results here
Comparing the split times with my clubmate who also did this, my route choice 11- 12 cost me seconds as I took the path route rather than direct for ease, all the rest of my choices were direct line navigation, so theres the reason Im happy to have come second from the biggest field of all the courses at the event. Seems like a season of actual club based training has paid off. My club WSX http://www.wessex-oc.org/ welcomes you to our training on Tuesdays from Bournemouth University at 6 P.M, and to get involved in our sport around the beautiful Dorset/ Hampshire area.