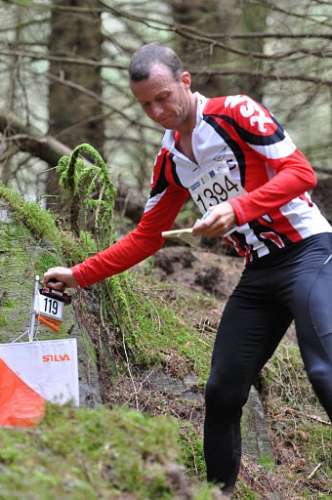 What is Orienteering? Never heard of it? Heres an outline if you like Adventure.
Navigation at speed, its a running sport, developed in Scandanavia in 1966, there are now 67 countries with competitions. The Inimitable Chris Brasher liked it and brought to the U.K in late 60's.
It's a race: you the runner, against the clock, against others of your age, against your club mates and against the elements.
Before ever having encountered the sport one favourite activity was running at speed between places on Ordnance Survey maps, during long walks in the wild places of the U.K. Linking Tors on Dartmoor or within the huge forest of Frithsden Beeches on the Chilterns- wild outdoor places are what ignites my passion. Since finding the sport in 2004 my winters have never been the same.
I compete with, am head coach with and am heavily involved with promoting the sport with Wessex Orienteering club. www.wsx-oc.org/uk
Weekend 14, 15 September was the Caddihoe Chase weekend, a 2 day race that is run bi-annually around Dartmoor by Devon Orienteers. Last time 2011 held on Burrator, where I wild camped the Saturday night held strong enough memory to make an entry to the Virtuous Lady event a definite this year. Day 1 gives a start time at pre-entry stage, then day 2 is a chasing start- meaning for the first day you are unfettered by your immediate competitors, but day 2 will be chasing the person who finished slightly ahead of you on day 1. Roborough down is the area near Yelverton, rich in forests, downland and steeply sloping river valleys.
The Event. Saturday. Spectacular- sunny, dry perfect for camping in the event assembly area as my choice. Course length 9.03 Km 355 metres of climb. Whilst hugely enjoyable I had a couple of challenges reading the map. Dartmoor leats can be run along steep hillsides, along contours, but my brain disbelieved that on the steep slope between controls 8-9 and I lost 5 minutes locating the control there. With all other legs fine though, my positive mental attitude prevailed and I completed in 90.52- 7th of 11 runners in my age class.
So to the chase day. I'm starting 1.26 minutes behind Peter Stagg who completed the first day ahead of me. Unlike standard O events the chase has you queuing behind prior competitors, adding to the nervous build up but getting you focused. Something about those ahead of me looking like gazelles with average height of 6 foot also amazes me at serious events, fast runners and Kenyans have long legs, its not a co-incidence everybody. Made it to the first in 1.55 and good starts always help set up for success, then managed to pass Peter on leg 3-4 as he stops to help a child. Spurred on I have a focus, don't get caught! Enjoyed legs 4-8 in flow now. Control 9 a crag on a hillside challenges as it means maintaining a straight direction when there's shoulder high bracken. However with care I find it and am soon flying alongside another leat on a hillside, then 10- 11 and at this part I'm running fastest of all those on my course, the rocky slope down to track isn't distracting me from focus on my course. I'm in heaven, in 'Flow'as psychologist Csikszentmihhalyi coined it:- making decisions at speed, whilst travelling through beautiful Dartmoor. A few hacks up hillsides test my strength but I keep focused and come back in the increasing rain for a 5/ 11 finish place. This 19 k training /racing sets me up for a great season ahead running my preferred distance of 7/ 8 km.
Every time the autumn comes, when cycle racing/ track riding abates a new seasonal challenge just gets started. We Orienteers live for the winter too, discovering the best wild places of the U.K. As the season progresses, my competitions, local events, coaching and activities will feature in this blog.
photos by a friend- easy section! http://www.flickr.com/photos/marklucylockett/sets/72157635512455281/